Here are three issues which I think could come from an increasing move towards self-administered medication abortion, across developing and restrictive regions:
 The business model for clinic-based abortion services will need to change;
 There will be a reduction in the number of clinics in which staff are trained and willing to provide surgical abortion; and
 The rate of effective post-abortion contraception will most likely drop.
The recent Guttmacher report, Abortion Worldwide 2017, provides some very interesting insights into the impact of medication abortion (abortion induced using either mifepristone and misoprostol combined or the latter alone).
In highly restrictive contexts clandestine abortions are now safer because of the availability of misoprostol, and to a lesser extent mifepristone, because women are choosing a medication approach rather than dangerous and invasive methods. From a public health and harm reduction perspective, this is great news.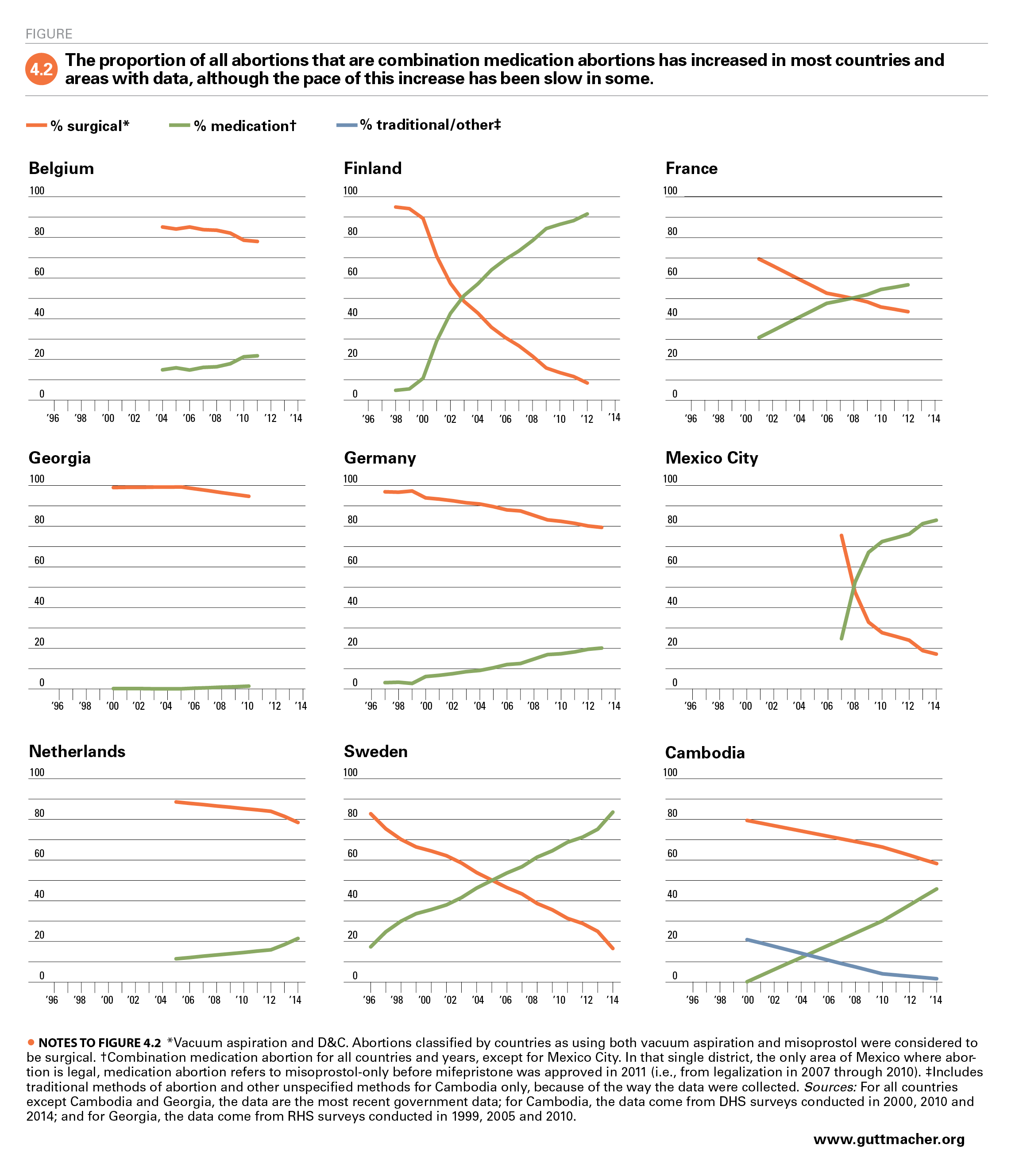 In countries in which the abortion law is much more permissive, the choice of method is moving from surgical (either manual vacuum aspiration, MVA, or dilation and evacuation, D&E) towards medication. In some countries this trend is remarkable, eg Finland, Mexico and Sweden, in which an 80:20 balance of surgical:medication has now swung the other way to 20:80.
In England and Wales, medication abortions accounted for 62% of the total in 2016. This is higher than in 2015 (55%) and more than double the proportion in 2006 (30%). In some places in Britain, the choice of method is very heavily skewed towards medication abortion, which may be an indicator of other factors, so rather than being solely due to a woman's choice might this indicate the lack of available surgical method, eg Hartlepool and Stockton-on-Tees 98% medication; Merthyr Tydfil 96%?
A key point to note is that all of these abortions are clinic-based, regardless of the method chosen.
There is a real concern that as more women choose medication abortion over surgical, that the number of clinics in which trained staff are available and willing to provide surgical abortion may decline to the point of not being sustainable or not being easily accessible. Here's a news piece about such an issue in Tasmania.
The trend towards medication abortion is building across most developing countries and whilst this is very positive in terms of harm reduction, there are important differences when compared to developed countries. In the latter, the availability and provision of abortion medication are strictly controlled and only accessible in registered clinics, the medication cannot be purchased in a pharmacy.
Across developing regions, and particularly in those countries with restrictive legislation, we often find misoprostol easily available in low-level pharmacies, sometimes referred to as drug shops. One might consider this to be an important step forward in harm reduction, and as noted above the numbers of serious incidents from less safe methods does decline when misoprostol is available in this way. However, this is not the same as we see in clinic-based services in England and Wales.
The problem is not so much that the medication being sold is not of good quality, very often these are the brands which we ourselves are promoting and using in our clinics. The problem is in how these are sold. Women don't always receive clear, comprehensive guidance on how to self-administer, and sometimes the dosage sold is simply not correct, less than required.
Even when a woman is able to buy the correct dosage of high-quality medication, and she self-administers correctly, abortion using misoprostol only is just 75-90% effective. When the abortion remains incomplete, or other problems arise, the woman will need to seek clinic-based care.
In retrictive contexts women wanting to access and self-administer medication abortion must:

Be given the correct dosage of high-quality medication;
Receive clear, comprehensive guidance on how to self-administer;
Be aware of what to expect normally;
Be aware of possible side-effects; and
Know from the outset how to get help if needed.
Let's extrapolate this, eg in Uganda if all of the 800 abortions each day became self-administered and the misoprostol-induced abortions were 90% effective, that would mean about 80 women would need clinic-based post-abortion care each day. That's a significant and welcome drop from the current 240 women being treated each day for complications arising from unsafe abortion, but only if the five points above are fully realised.
As more women choose self-induction of medication abortion, very many of them will miss out on the opportunity to receive, in a timely manner, an effective means of post-abortion contraception.
This growing change in abortion market dynamics, the move away from clinic-based services to self-administered out-of-centre, is a critical factor which healthcare planners need to take into account.